Summer Beach Tips for You and Your Dog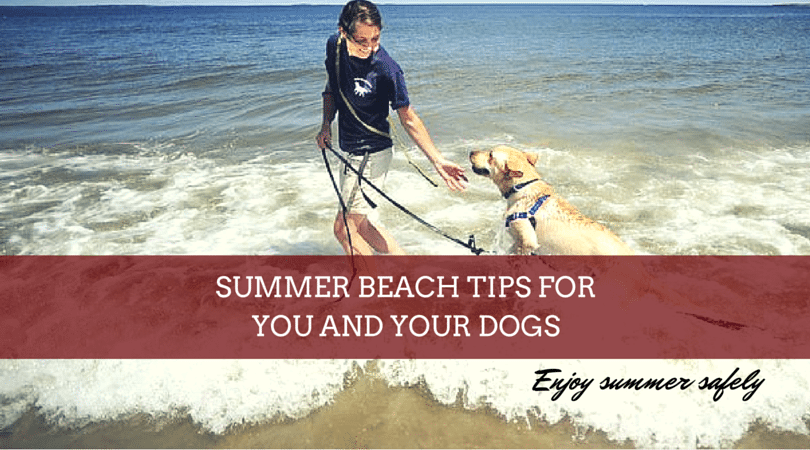 Spending a day at the beach with our canine companions can be the perfect way to spend a sunny summer day.  Our dogs often enjoy the sand, warmth, and the ocean as much as we do, but there are a few important things to keep in mind when traveling to the beaches with our canine friends to avoid injuries, overheating, sickness or violating local beach regulations.
Be sure to provide a shaded area for your dog.
Give him or her plenty of access to clean drinking water.
Make sure your dog can swim and is familiar with the doggie paddle. Making sure they are able to swim and can handle the exertion is key.
Dogs can get sunburn, especially those with shorter hair, pink skin or white hair. There is a type of pet-safe sunblock that can be used but be sure it is the kind made specifically for dogs.  You can apply this to the ear tips and nose prior to sun exposure.

Pet Guard Gel with Sunscreen is a good product to use. Other suggested sunscreen products can be recommended by your veterinarian or found at your local pet stores such as Concord Pet.

Be aware of the ocean water conditions: Are there lots of jellyfish on that given day? Is the current strong? These things can affect your dog's ability to come in and out of the water or may cause unnecessary stings!
If your pet is out of shape, overweight or has specific health concerns do not encourage him/her to run in the sand. It is great exercise for them to run on the beach, however, a dog who is out of shape can easily injure a ligament or tendon.
The cool ocean water can be tempting for dogs to drink. Be careful to not let them drink too much salt water as it can cause upset stomachs and other issues.
Eating sand can be appealing to dogs as well. Be sure not to let them engage in sand eating since it can cause impaction of the bowels.
Salt and other minerals that are found in the ocean can be harmful or irritate your dogs' coat. Once you are done at the beach for the day be sure to give them a fresh bath once returning home.
Check the local ordinances before planning your day at the beach with your dogs as not all beaches allow pets.
Swimming is also a great means of exercise but don't let your dog overdo it.  Too much swimming can generate soreness or dehydration. Be sure to have them rest in the shade frequently during the warm to hot summer days.
Remember to bring pick up bags with you so you do not leave a mess on the beach.
Be sure your dog is up to date on vaccinations, especially if the beach is a common dog-friendly beach where they will interact with other dogs.
Learn more about the beaches you plan to visit with your dogs using the resources below:
Which beaches or parks do you enjoy with your dogs?