A little about A. Little Vet
A. Little Veterinary Clinic Cares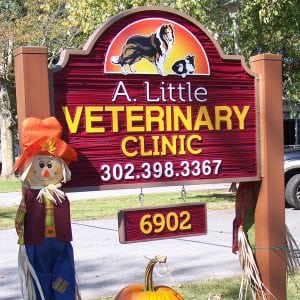 A. Little Veterinary Clinic was founded by Dr. Sharon Alger on April 1, 1997. With the help of a dedicated assistant Julie Warrington, future husband, Larry Little and an Office Manager, Terri Denny, the practice was already growing and in motion from day one. In September of 1997, Dr. Sheryl Trivits, a well respected veterinarian joined the practice to assist in surgical procedures and patient treatment.

Over the next few years a growing practice required physical expansions which would give the hospital almost five times the usable space. Along with renovations and more usable space the staff has continued to grow into a hardworking and dedicated group of individuals. A. Little Veterinary Clinic quickly became a well-known hospital in such a small rural area.

We are proud that as of 2009 at least five of our staff members have gone on to attend a veterinary school of medicine.

Since 1997, A. Little Veterinary Clinic has evolved into a two doctor practice specializing in small animal medicine, wellness services and elective procedures. We are proud of the high standards of care our hospital has provided to our clients and are committed to many more years of outstanding service.