Plants that are toxic or deadly to your pet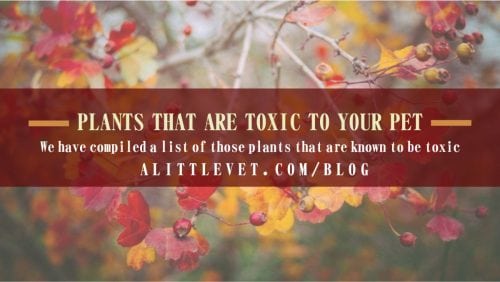 Many pet owners are unaware that they may be placing their companions into harms way simply by having house plants or seemingly innocuous outdoor flowers, bushes, and plants. In order to help protect your pet, we have complied a list of the plants that are known to be toxic, or even deadly, to your pet.
The listing below has been updated and is available on our Practice Information page as well.  We will continue to update that page as we learn of other plants that are toxic.
Aloe Vera
Amaryllis
Azalea
Baby's Breathe
Begonias
Carnations
Castor Bean
Chrysanthemum
Cyclamen
Daffodil
Holly
Gladiola
Hosta
Holly
Ivy
Lilies
Milkweed
Mistletoe
Morning Glory
Oleander
Poinsettia
Pothos
Sago Palm
Tomato Plants
Tulip
Yew
Some of these plants may only cause minor effects such as vomiting while others can cause serious, life-threatening reactions.  It is always a good idea to see your Veterinarian or visit an Emergency Clinic when your pet has ingested one of the above plants.  Beyond ingestion, your pet may also have a reaction if they rub up against one or there is eye exposure.
Also keep in mind that a lot of plants are treated with pesticides and other chemicals so even if they are not commonly toxic they become toxic to your pet from these chemicals.
Try and keep houseplants out of reach of your pet when possible. As for the outdoor plantings, be sure you know what you have planted and whether or not your pet will be likely to ingest it. Prevention is the best form of pet safety!
Do you know of a plant that is toxic or deadly to pets that we have not listed? Tell us about it in the comments below!
Disclaimer: There may be additional plants that can be toxic to your pets that are not included on this list. If you have any questions regarding a specific plant please consult your veterinarian or poison control.